Posted on September 30, 2013 by Maria Greene
Editor's note: this is an entry in a series of essays on this topic. Please, share your story.
FREEDOM DEPENDS ON FREETHINKERS!
My title likely comes from a bumper sticker and I borrow it because I have such a strong belief in the concept of freedom. That certainly includes the freedom to be an atheist! I am Vietnam veteran and did not serve my country so I would be required to believe in God. We are NOT a country "Under God", but rather under a constitution that gives us the freedom to believe or not believe as we choose. The best thing to have faith in is yourself!
My mother raised my two sisters and me as a Baptist to expose us properly to being churched in the South. My dad was in the beer business and that was rather frowned upon. He was once the Plant Manager of the Budweiser Brewery in St. Louis. I think he was always a hard core atheist and I later embraced that as well. I believe it began to happen for me when I entered college, because it was then that I really started doing more genuine thinking. In later years my dad and I both loved the thinking of Sam Harris and Richard Dawkins and all the principles of Humanism. We had no regard for most religions, but were both approached to become charter members of a Unitarian Universalist church. Most of the charter members were gay and were turned away by local churches. That was just not right. I liked the idea of seeking truth on your own terms and in my mind constantly redefining by reason my spiritual equation to live by. So about 20 years ago my dad and I became charter members of the Georgia Mountains UU Church located in Dahlonega, GA. We both were featured speakers at services and really tried to convey the need for more of a "habitat of humanism" rather than a "house of worship". To worship anything is to enslave the mind.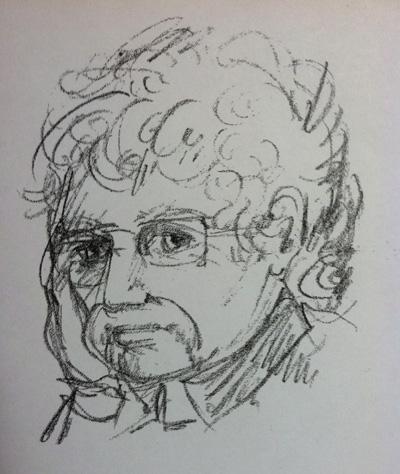 Fourteen years ago I moved to Charlotte and became a member of the Piedmont UU Church. There I met my significant other, Gail, at a church coffee house event. [Editor's note: that's Gail's portrait of Mehl on the right. The one above was taken at the Burning Man Festival.] She is a woman who claims to be a druid, with a similar distaste for fundamental Christian belief. She tends to be more spiritual and that is okay. There is book written by a highly respected French author titled "The Little Book of Atheist Spirituality". A humanistic perspective is that God is within us and not a super natural power over and above us. In other words, we are God. We need to be far more concerned about our planet in order to be one with the earth. Similar to the message conveyed in the pantheistic message of the movie "Avatar". I mention the UU church I am a member of here in Charlotte because a couple of years ago I was nominated and became president of this congregation in spite of my well known standing as an atheist. This says a lot about the tolerance of that denomination and demonstrates how members truly have the freedom to seek what is truth for them without being subjected to the traditional dogma for most churches.
I am extremely proud to be a freethinker and free to be an atheist!
Mehl W. Renner – Charlotte, North Carolina