Date and time:
Friday, June 24, 2016 - 6:00pm

to

Saturday, June 25, 2016 - 7:45pm
Location:
Hilton Columbus Downtown, Edna Boise Hopkins Room
43215
Columbus
,
OH
United States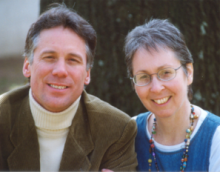 Note, that the hotel is connected to the Greater Columbus Convention Center via skywalk.
Also note: You do not need to be registered for General Assembly to attend this event!
The UU Humanist Association will hold its Annual Meeting at the UUA General Assembly in Columbus, OH. The business part of the meeting will be very short with only two agenda items: voting on the new slate of officers and board members recommended by the current board, and distributing certificates to the five congregations that have been certified as Freethinker Friendly in the past few months.
The main event of the evening will be the presentation of the Humanists of the Year Award to Michael Dowd and Connie Barlow and their talk, "Evolutionary Eco-Humanism".
Humanism is too often assumed to be outdatedly anthropocentric. It is therefore crucial to evoke green activism within our own ranks. Fortunately, the originator of an evolutionary form of humanism in the mid 20th century, the late Julian Huxley, can also inspire an ecological form today.
While at GA, please come visit the UU Humanist Association booth, #200 in the exhibit hall.
Meet these members of the HUUmanists board: