Date and time:
Saturday, July 25, 2015 - 2:00pm

to

Sunday, July 26, 2015 - 9:45pm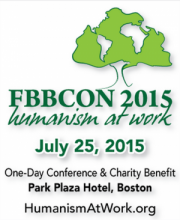 This event has been cancelled!
The UU Humanist Association is proud to be partnering with the Foundation Beyond Belief as a sponsor for their 2015 Conference to be held in Boston, MA on July 25th at the Park Plaza Hotel. Fresh from the 2015 UUA General Assembly in Portland where UUs voted to approve an Action of Immediate Witness in support of the #blacklivesmatter movement, we believe this conference is an excellent way to further that effort.
Here are details from the Foundation Beyond Belief's conference page on their website:
Last year's conference, the first of its kind in the freethought community, centered on how nontheists could put their compassionate humanism to work for a better world. It included TED-style presentations on philanthropy, volunteering, and community building, as well as practical workshops, panels, and hands-on volunteer opportunities.

This year's one-day conference and charity benefit will be held on July 25th at 2:00 pm at the beautiful, historic Park Plaza hotel in Boston, Massachusetts (only 1/4 mile from the iconic Cheers bar, where we will meet for a Friday evening mixer).

Our event will be centered around the theme #blacklivesmatter: listen, learn, think, discuss, act. Sikivu Hutchinson will deliver the keynote speech: Colorblind Lies & Meritocracy Myths: Moving Secular Social Justice. 50% of the proceeds from this event will go to Community Change, Inc., a charity working directly on anti-racism education and advocacy.

Here's your chance to say goodbye to outgoing Executive Director Dale McGowan and meet the incoming executive director Noelle George. This unique event will include the following:

TED-style presentations relating to our theme
updates on FBB's newest programs (including Humanist Service Corps and Humanist Disaster Recovery Teams)
2014 Heart of Humanism awards dinner
a Q&A panel on the topic of #blacklivesmatter

Some of the voices you will hear at the event are Professor Monica Miller of Lehigh University, Professor Fiery Cushman of Harvard, Shane Slone (a fresh new voice on race relations sponsored by Black Nonbelievers), and FBB staff members Rebecca Vitsmun, Conor Robinson and AJ Chalom, and more.

Tickets are $125, with 10 student tickets available at $49.

Click here to reserve a room at the Park Plaza Hotel, or call the Reservations Department at (800) 225-2008 and ask for the Foundation Beyond Belief Room Block.
Meet these members of the HUUmanists board: