Posted on April 5, 2017 by Maria Greene
The UU Humanist Association is very proud that the Unitarian Universalist Association has signed on as a March for Science partner, and is also mobilizing UUs to participate in the People's Climate March which will be held a week later, on April 29. The March for Science is a international movement, planning the main march in Washington DC, for Earth Day, April 22, 2017, as well as over 300 satellite marches around the world. As the March for Science website states,
The March for Science demonstrates our passion for science and sounds a call to support and safeguard the scientific community.

It is time for people who support scientific research and evidence-based policies to take a public stand and be counted.
One of the six sources for Unitarian Universalism is, "Humanist teachings which counsel us to heed the guidance of reason and the results of science," and the UUA has never wavered in its support.
As the UUA's announcement stated, "The UUA is currently the only religious denomination who has partnered with the march." Of course, as shown in the Tweet below, the UUA also recognizes that the American Ethical Union, an association of Humanist congregations, has also partnered with the March.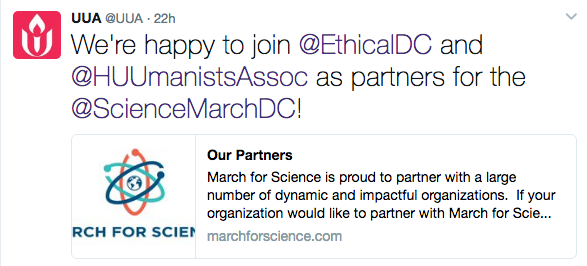 In addition, the Secular Coalition for America, of which the UUHA is a member organization as is the Society for Humanistic Judaism, is also a March for Science partner.
The UU Humanist Association strongly encourages our local groups and UU congregations to get involved in organizing local contingents of marchers and to volunteer at the marches themselves.
If you are marching on April 22, please share pictures on social media using the tags #ScienceMarch, @UUA, and @UUHumanistAssoc.