Posted on April 12, 2013 by Maria Greene
The HUUmanists Association is happy to congratulate one of our board members, Stefan Jonasson, for being awarded the Queen Elizabeth II Diamond Jubilee Medal by his home country of Canada.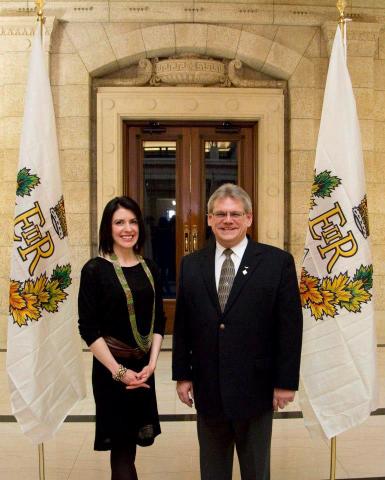 Deanne Crothers, MLA for St. James, with Stefan Jonasson after the Queen Elizabeth II Diamond Jubilee Medal presentation ceremony
We enjoyed Stefan's Facebook announcement when he was told he was to receive the award:
I am humbled and honoured to be able to announce that I will be presented with the Queen Elizabeth II Diamond Jubilee Medal at a special ceremony in the Manitoba Legislative Building a week from today. [April 11, 2013] According to The Chancellery of Honours, "The Queen Elizabeth II Diamond Jubilee Medal is a tangible way for Canada to honour Her Majesty for her service to this country. At the same time, it serves to honour significant contributions and achievements by Canadians." Recipients must have made "a significant contribution to a particular province, territory, region or community within Canada, or an achievement abroad that brings credit to Canada." And then there's me.
Well done, Stefan, and we appreciate all the work you do for HUUmanists and for the UUA in your role as Director of Growth Strategies and Large Congregation Development.